Exhibitions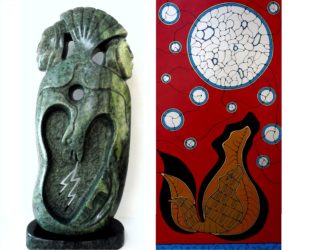 The Fall Gallery Walk- Saturday, September 24 10-5 PM and Sunday 12-4 PM.
September 24 – October 6: Nurturing the Spirit, New works in soapstone by Leo Arcand and Paintings by Jessica Desmoulin. Join us Saturday, September 24th from 1-4 PM for the opening. Both artists will be in attendance. This is also the Gallery Walk weekend.
October 22 – November 3: New Mixed Media Paintings by Aaron Paquette and new Ceramic works by Dianne Meili.
November 5 – 17 New works by Jim Logan.
News
Newly acquired collectible works on canvas and paper by Carl Ray. These early 1970s paintings depict significant Woodland legends.
Also just in, an outstanding eight foot by four foot acrylic on canvas painting entitled Creation by Roy Thomas. Other works on paper are also available to view.
The Bearclaw Gallery would like to welcome new artist, Ronnie Simon. His highly detailed works depict Canadian wildlife in their natural environment.