Exhibitions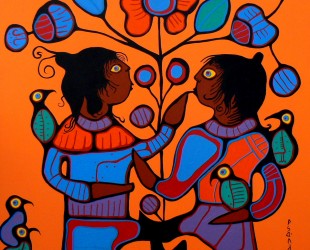 Please join us on Saturday April 26 from 1- 4 pm, during the Spring Gallery Walk weekend, for the opening reception of "Woodland Treasures". This exhibition features the unique and vibrant art of the Woodland School painters. The genre was created by Norval Morrissesau to express the visual imagery of sacred petroglyphs and Midewein birchbark scrolls, myths and legends that had previously been culturally sheltered by the Ojibway people.
The distinct Woodland style was adopted by a group of dynamic artists that include Roy Thomas, Saul Williams, Carl Ray, Jackson Beardy, and Norval's brother in laws Joshim and Goyce Kakegamic. These narrative works depict the legends and myths of the Ojibway people through stunning use of colour and x-ray perspective surrounded by black form lines. The Woodland School has become one of the most recognizable forms of First Nations art and continues to inspire young artists today.
The exhibition continues to May 9, 2014.
News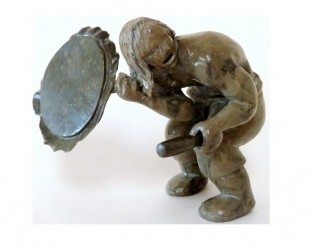 Just in time to showcase our upcoming exhibit "Woodland Treasures", Bearclaw Gallery is proud to reveal our new website. Please note that due to the changes we have recently made that any e-mails sent between April 8 and April 10, may have not been received. Check back frequently, as we hope to add many images, especially of our extensive soapstone selection, shortly.