Exhibitions
September 24 – October 6: Nurturing the Spirit, New works in soapstone by Leo Arcand and Paintings by Jessica Desmoulin. Join us Saturday, September 24th from 1-4 PM for the opening. Both artists will be in attendance. This is also the Gallery Walk weekend.
October 22 – November 3: New Mixed Media Paintings by Aaron Paquette and new Ceramic works by Dianne Meili.
November 5 – 17: Waiting New works by Jim Logan.
News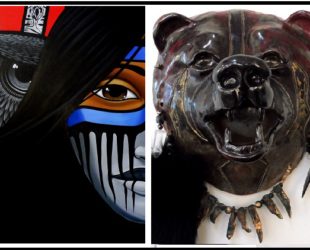 Opening Saturday, October 22, element•ally New Works in Clay by Dianne Meili and New Works on Canvas by Aaron Paqutte. The artists will be attendance from 1 to 4 PM.
The world can seem overwhelming. The challenges too great, and ourselves too small. We forget that we are part of the whole,
each one of us the centre.
We are allies.
Kisi Manitou gave us all – animals, plants, each other; the wind, the fire, the water, the land – all the elements we need in this
Earthwalk.
So don't feel alone. You are essential. Elemental. Ally. Friend.
We invite you to step into this place, to remember, repatriate, and reconnect. Hiy hiy.