About
In 2013, the Bearclaw Gallery celebrated its 38th anniversary as a fine Canadian First Nations art dealer. As Native art began to emerge with some force in the Canadian art market in the 1970's, the Bearclaw Gallery began promoting the pioneers of the Woodlands School of Art with artists like Norval Morrisseau, Roy Thomas, Daphne Odjig, the Kakegamic family, Benjamen Chee Chee, Eddie Cobiness, Jackson Beardy and others.
Over the last three decades, the Bearclaw Gallery has established solid relationships with First Nations artists from across Canada and has proudly promoted Canadian First Nations & Inuit art and artists to buyers both at home and internationally.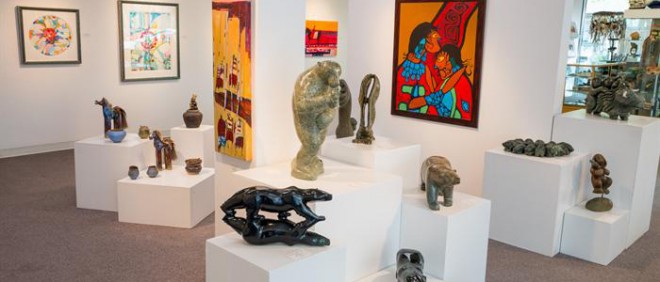 Inuit Art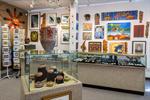 The Bearclaw also features Inuit art soapstone sculpture by a number of master artists including Mathewsie Iyaituk, Kananginak Pootoogook, George Arlook, Nutaruk Iyaituk and Kiawak Ashoona.
West Coast Art
In addition to our wide selection of native art works by Cree, Dene, Ojibway, Iroquois and Métis artists, our collection of West Coast masks and carvings include designs from the Kwakuitl, Tlinglit, Coast Salish and Haida Nations.
History
The Bearclaw Gallery was established in 1975 by Agnes Bugera from a small arts and crafts shop to one of Canada's most respected Canadian First Nations art galleries.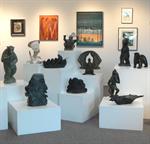 In the mid 1980's, Agnes dedicated herself to promoting contemporary Canadian art with Gallery on Whyte and later Bugera/Kmet and Agnes Bugera Galleries. She passed on the operation of the Bearclaw Gallery to her daughter Jackie Bugera who is now proudly showcasing some of Canada's most outstanding and renowned Native artists including Norval Morrisseau, Daphne Odjig, Alex Janvier, Jane Ash Poitras,  Roy Thomas, Maxine Noel, Jim Logan, and many others.
As one of the first galleries of its kind, the Bearclaw Gallery has made a significant contribution to the development and promotion of Canadian First Nations artists and First Nations art from the many Aboriginal cultures across Canada.
The Bearclaw Gallery is located in the gallery district in Edmonton, Alberta, Canada and is an active member of Edmonton's Gallery Walk Association.